With 2,800 families, it takes a team approach to minister to the spiritual and pastoral needs of Valparaiso's Catholic Community. We're led by two priests and four deacons who partner with a larger staff and so many amazing lay ministers and volunteers who are the heart and hands of Christ to our neighbors.

Fr. Doug Mayer
Pastor
(219) 464-4831 ext. 225 | email
Fr. Doug Mayer grew up on the family farm in Wisconsin, before his family moved to Hobart. After high school he attended Valparaiso University, graduating with majors in History and Secondary Education. During his teaching career, Fr. Doug began exploring the possibility of priesthood and began his studies at Sacred Heart School of Theology, outside of Milwaukee. He was ordained to the priesthood in 1986 and spent a year at St. John the Evangelist in St. John, before being appointed to shepherd St. Teresa of Avila Catholic Student Center at Valparaiso University. In 1995, he was appointed pastor of Our Lady of Sorrows in South Haven until 2009, when he began his ministry at St. Elizabeth Ann Seton in Valparaiso.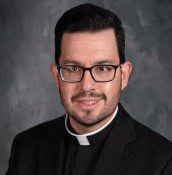 Fr. Leonardo Gajardo
Associate Pastor
(219) 464-4831 ext. 227 | email
Fr. Leo Gajardo was ordained in 2006 and previously served at Saint Paul from 2010-2011. Fr. Leo was born in Santiago, Chile, and immigrated with his family to the United States in 1990. He did his undergraduate studies at Sacred Heart Major Seminary in Detroit, Mich., and completed his seminary formation at The Catholic University of America (CUA) in Washington, DC. After ordination, Father Leo received a licentiate in canon law from CUA and a doctorate in liturgical theology from the Pontifical University of the Holy Cross in Rome. From 2011 to 2021 he served as a seminary formator and taught graduate courses in canon law and liturgy.

Deacon Mike Foster
Pastoral Minister
(219) 464-4831 | email
Biography coming soon!

Deacon Jim Caristi
Pastoral Minister
(219) 464-4831 | email
Deacon Jim Caristi was ordained to the diaconate in June 2007. He and his wife Martha have two children and two grandchildren, all of whom live in Valparaiso. He is a professor of computer science and mathematics at Valparaiso University, where he has worked since 1980. He is very involved in Hispanic Ministry, and also has much interest in adult faith formation, marriage preparation, hospital ministry, and ministry to people suffering with Alzheimer's. He is also a tournament racquetball player, and hopes to become the world champion in his age group.

Deacon Dave Bergstedt
Pastoral Minister
(219) 464-4831 | email
Biography coming soon!

Deacon Ken Klawitter
Pastoral Minister
(219) 464-4831 | email
Deacon Ken Klawitter was ordained a Permanent Deacon in June 2017. He grew up in Highland and graduated from Purdue University. Having received the Sacraments of Baptism, Holy Communion, Confirmation, and Marriage, the laying on of hands by Bishop Donald Hying conferred the gift of the Holy Spirit in Holy Orders and apostolic ministry. Educated in the faculties of Engineering and Architectural firms, he is indebted to the professional practice of building design and makes a living as a custom home designer. The loves in his life are his wife, children, and extended family, jazz, baseball, and sharing meals (with a good bottle of wine of course) with friends. His encouragement to all is to live well, love much, and laugh often!